Thursday, February 21, 2019
The Colorado Association of Funders partnered with the Colorado Nonprofit Association, Spark the Change Colorado, Community Resource Center, the University of Colorado School of Public Affairs, and the Denver Office of Strategic Partnerships to publish the Colorado Nonprofit Economic Impact Study.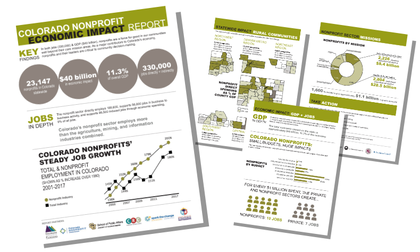 The study details the fiscal contributions of nonprofits that strengthen Colorado's communities and economies. In both job creation & state GDP, nonprofits are a force for good in our communities, well beyond their core mission areas. As major contributors to Colorado's economy, nonprofits and their leaders are critical to community decision-making.
In general, the findings of this study are intended to help business leaders, public officials, and economic developers understand how to better leverage nonprofits through knowledge of the industry's impacts and contributions to the overall economy. The study demonstrates that the nonprofit sector is an essential job-generating component of Colorado's economy.
You can read the report and use the interactive county-by-county nonprofit spending data tool here.
Thank you to our generous sponsors who helped make this report possible:
​
Bank of the West
BKD CPAs & Advisors LLP
Boettcher Foundation
The Denver Foundation
El Pomar Foundation
Employers Council