Tuesday, August 18, 2020, 1:00 - 2:30 PM
Please join us for our 2020 Powering Partnerships program sponsored by:
"Making or Breaking the Future"
featuring: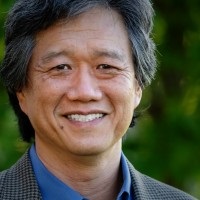 Leadership Strategist Chunka Mui
Whether intentionally or not, the current pandemic is forcing all of us to make choices right now that will shape just about every aspect of the future. How will we rebuild quickly in a way that alleviates rather than exacerbates societal issues such as racial injustice, health equity and a climate crisis that threatens to dwarf the impact of COVID-19?
Mui, who focuses on innovations aimed at making the world a better place, will offer insights about how smart recovery strategies can create more hopeful futures for current and future generations. He'll walk us through the "Laws of Zero" and we'll break into small groups of funders and nonprofits to discuss how these ideas might resonate and work here in Colorado.
Mui, a frequent contributor to Forbes Magazine, is the co-author of bestselling business books Billion Dollar Lessons, Unleashing the Killer App and The New Killer Apps. Mui has given scores of speeches to groups large and small all over the world, including IBM, Allstate, Goldman Sachs, New York Times Company, Disney, McDonald's, Pfizer, PwC, Booz Allen Hamilton, the Consumer Electronics Show, the Council on Foreign Relations and the Aspen Ideas Festival.
WHAT IS POWERING PARTNERSHIPS? 
Sponsored by Community First Foundation, Powering Partnerships brings together funders and nonprofits each year for a thought-provoking learning and networking event. This virtual program will include a keynote and breakout sessions allowing funders and nonprofits to meet together in small groups. 
Please make sure you are logged in to complete registration. New to our website? Click here for instructions how to set up your account.